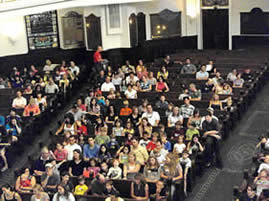 Located in the heart of Richmond, Virginia, Beth Ahabah is a thriving Reform Jewish congregation with more than 220 years of history. In addition to weekly religious services, Congregation Beth Ahabah offers active religious school and youth group programs, adult programs (including Sisterhood, Brotherhood and adult education courses), and youth and adult choirs. We are also dedicated to participating in a variety of community service programs.

We invite you to spend some time here at our web site learning about our Congregation and its history, and we further encourage you to join us at the Temple and worship with us. More about Beth Ahabah >>
Please join us on Friday evenings at 7:30 PM for Shabbat Services followed by an Oneg Shabbat and please invite a prospective member to join you.
Stay connected with us through Facebook!

Ask-the-Rabbi
Are there questions you have always wanted to ask Rabbi Beifield but haven't had the chance? Maybe you have wanted to ask him something about services, Judaism, the Temple, Israel, or current events.

On May 24th, Rabbi Beifield will lead an "Ask-the-Rabbi" session during services.If you would like to send the Rabbi your question now, click here. You can ask anonymously or include your name. If for time reasons the Rabbi can't answer your question during services he will contact you personally with an answer.
News from Or Hadash
Read the latest news from our sister congregation in Israel. Click here for the December 28, 2012 newsletter. Also, read personal impressions from the front line here.
Current newsletter
B'Yachad, our temple bulletin for May/June2013. Featuring the Rabbi's message, Museum & Archives news, Religious School news, notes from the Executive Director, b'nai mitzvah announcements, upcoming events, and much more.
Yahrzeit List
Click here for the Yahrzeit list for May/June 2013.
We Accept Credit Cards
Congregation Beth Ahabah accepts credit card payments. If you choose to pay your financial committments in this way, please feel free to do so by completing and sending in the Credit Card Acceptance form, calling us at 804.358.6757, or stopping by the temple office. Please note that you can still contribute to CBA online via Paypal.
In less time than it takes to drink your morning coffee or better yet, WHILE you have morning coffee, the Union will send you a one-page e-mail each day on a topic of Jewish interest. All you need to do is find 10 minutes a day to "do Torah" - http://urj.org/torah/ten/
All content Copyright ©2001-2006 Congregation Beth Ahabah.